The Wholistic Healing Experience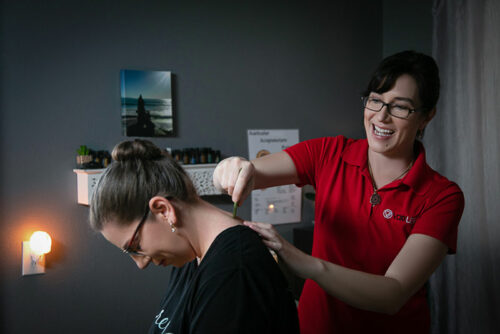 Wholistic Healing Experiences opened its doors in November of 2016 and ever since they've been on a mission to help people move better, feel better, and live better.
Healing is Possible. Founder, Dawn Ramsden, believes that the body is meant to heal. As the wife of an injured veteran, she has experienced first-hand the impact pain has in our lives. Dawn learned advanced therapeutic massage techniques that worked on hundreds of other people, but didn't provide the same results for him. Then she learned about functional neurology and how this brain-body approach was the key to overcoming chronic pain.
Wholistic Healing Experiences' team of therapists are life-long learners. They place high value on continued education beyond massage training and work hard to keep up with all of the latest information. Each therapist has an expertise, making the team as a whole one that's fully equipped to serve your needs. Together they are committed to helping you overcome your pain so you can stop feeling limited–both physically and mentally.
Inclusivity
We understand that trauma and the experiences that have gotten you here aren't easy to work through. That's why we go above and beyond to ensure a safe space for your healing.
Excellence
From working with patients, to training, and additional education, we're committed to excellence in everything we do.
Integrity
We lead with integrity. Your health and wellbeing is in our hands and we take that extremely seriously to ensure that you're getting the best care for you.
Learning
We're life-long learners who continue to expand our knowledge in our field so that we're best equipped to serve you.
Community
We believe when one person feels good from the inside out, it positively affects our community. We set out to heal our community everyday.
Service
Our team is here to support you physically and mentally. We put our heart into our work day in and day out to ensure quality service.
You Deserve Relief
We're here to help you get back to your life of mobility, productivity, and creativity.