Find the Perfect Massage for You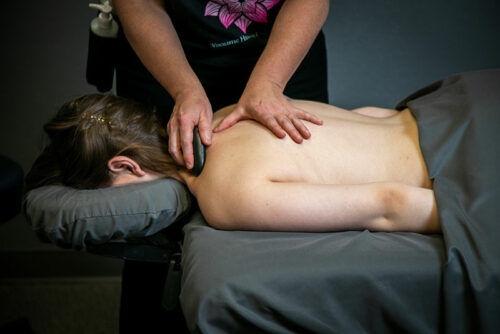 Our massages are all intuitive, which means each is tailored to the individual based on their needs with no up-charges. Our flat-rate price includes all of the techniques and application of our advanced training that will help you leave feeling better, no tipping required.
Your fully integrated service may include:
Infrared biomat
Massage cupping
Myoskeletal Alignment
Hot towels
Topical muscle-soothing products (like CBD or DoTerra Deep Blue)
Auricular (ear) acupressure
Kinesiology taping
Aromatherapy
Scalp massage
Services & Treatments
Hot Stone Massage
Deeply relax your muscles with heated smooth stones lubricated with oils. Experience a unique experience many find to be tremendously calming and centering.

Integrative Treatment
Our most popular option combines a variety of massage services and treatments to deliver the exact massage your body needs.

AromaTouch by doTERRA
Find balance with a sequential application of doTERRA essential oils to your back and feet.
Quantum Crystalline Energy Balance
Restore, promote, and maintain health and wellness by influencing and supporting your body's bioenergies. Specifically attuned crystals work to promote balance over the energy centers in the body.
Advanced Neuromuscular Therapy
Experience deep and lasting relaxation of your muscular problems through a variety of trigger point techniques.

Myoskeletal Alignment Technique/Manual Therapy
A blend of osteopathy and structural integration, this treatment focuses on relieving chronic pain–particularly in the back and neck.

Pregnancy Massage
Address the special needs of your expecting body. Specially-designed massage tables, cushions, and side-lying postures work together to relax you and prevent pressure on your abdomen.

Stability Consultation
Achieve Your Wellness Goals – reduce pain and increase performance and productivity with VoxxLife Products. VoxxLife wearable products activate neuroreceptors on your body to reduce aches and pains, increase endurance and performance, stabilize balance, speed-up recovery, and improve your neural health all without the use of drugs or invasive procedures.
What to Expect
Talk with Our Patient Coordinator
Can take your experience and determine the correct route of care.
Start with Therapist
We'll send you some intake questions that you'll fill out prior to the appointment. When you come in we do a longer consultation so the therapist gets to know you and your needs prior to getting on the table.
Schedule your Next Visit | Wellness Program
When new clients schedule a follow-up session, you get $20 off your first visit When you come in within the next 8 weeks you get $20 off your treatment.